This is my simple guide to buying yourself a whip.
There are so many whips out there in the world and when it comes to buying one which is right for you? I get asked which one should I buy all the time, so I thought I would write this little guide. Everyone I believe finds the right whip for them.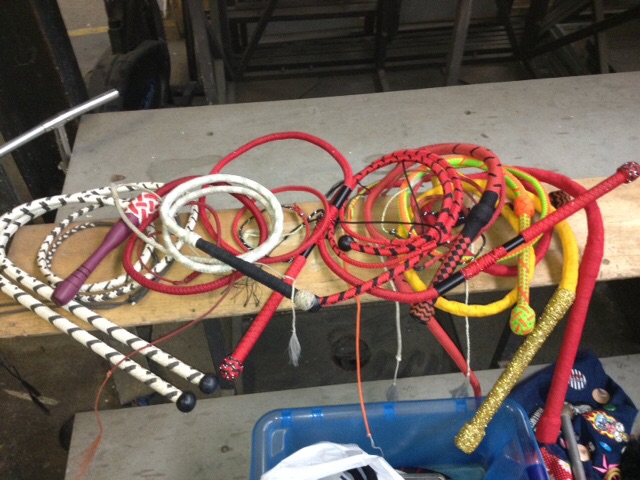 Start by first asking yourself "What do you want to be able to do with your whip?
Is your whip just for fun to play and learn a few cracks?
Do you want to perform with whips on stage? Is it for indoor use in small cabaret spaces? or larger stages? Or do you mostly want to use it outdoors?
Do you want to do targets, or dance with it ?
Do you want to do multiple crack routines and tricks?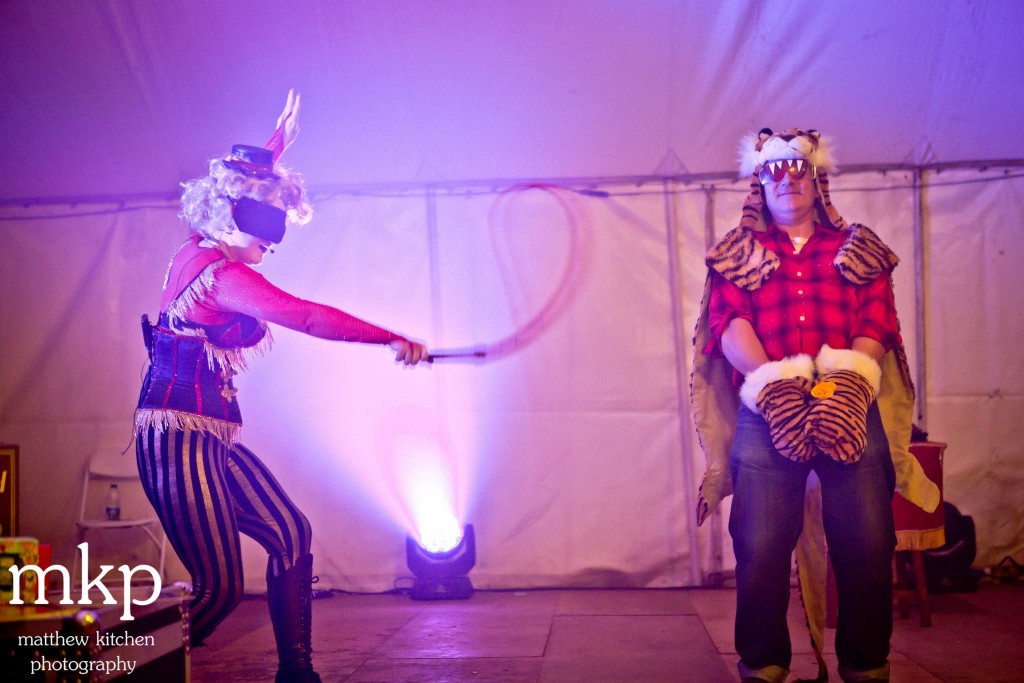 Once you have answered these questions then you need to ask yourself
What material would you like your whip to be made from.
The first option you have is the more traditional leather, it's more expensive but they are more fluid, but can be damaged them from the elements if you crack outside. Leather whips should never be allowed to get wet as this can rot the leather and then the drying out can make the whips become brittle. Be careful of cracking them on sand or rough surfaces as this can tear or snag the leather. You need to look after them but if you do a leather whip should last you a lifetime. Leather whips are either made from a Kangaroo hide or cow leather. Cow is a bit more of a hardy leather so better for whips that will be used outside, while 'Roo is very strong so it can be cut into finer strips and give a whip with more plaits and flexibility.
The other choice you have is paracord nylon whips they are very durable but maybe not as fluid as a leather whip. You can also get them in all sorts of wonderful colours and even glow in the dark. They can be used both inside and out and don't mind getting wet. Nylon whips are cheaper than leather whips.
What length would you like your whip to be? Personally I like a five foot whip as I perform on indoor stages a lot and I have to account for avoiding lighting rigs and other stage furniture . Generally speaking – the shorter the whip is the faster it will be, and the longer the whip will be slower, but longer whips are better for targeting and for body wrapping. If your going to be performing on stage you'll need a mix of lengths of whips is best for different venues and tricks. A maker will also ask you what length of handle you would like, the longer the handle the better it is for targeting. Remember, while most american whips are measured to the end of the fall, most Australian bullwhips are measured to the keeper (end of the braiding) and then there is around 1½ ft of fall plus a cracker. so a 6 ft. Australian bullwhip is actually around 8ft with the cracker. So make sure when ordering your whips you talk over with your maker what you exactly want so you don't end up with too short or to long a whip.
So once you have figured out all these questions then you need to figure out which type of whip you would like. I have listed the top four most popular types of whips.
The different whips you can get are
My favourite is the a bullwhip it is made of either braided leather or paracord. Leather whips will be more expensive than paracord. A bullwhip braid continues right over the handle making one continuous appearance. I would say the bullwhip is the one most people picture when thinking of a whip and the one you have seen most in films like Indiana Jones and Cat woman.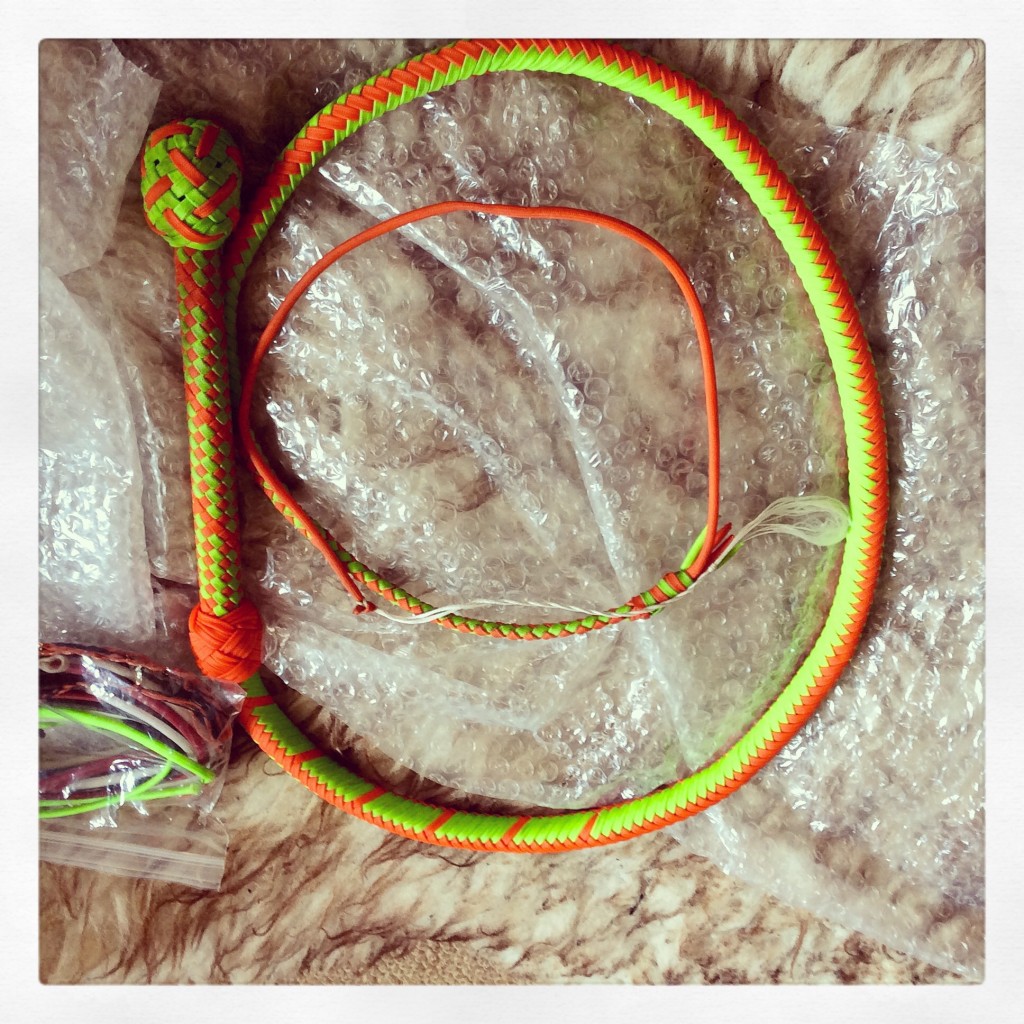 Snake whips (or snakewhips) The name snake whip is derived from the fact that this type of whip has no actual handle inside the plait and so can be curled up into a small circle which resembles a coiled snake. They were once commonly carried in the saddlebag by cowboys of the old west. A full sized snake whip is usually at least 4 feet in length (excluding the fall and cracker at the tip of the whip) and around one inch in diameter at the butt of the whip. I would not recommend one of these as your first whip as the lack of handle can take a while to master.
The Australian stockwhip is often said to have originated in the English hunting whip, but it has since become a distinct type of whip. Unlike the short, embedded handle of a bullwhip, the stockwhip handle is not fitted inside the plaiting and is usually longer. A stockwhip's handle is connected to the thong by a joint typically made of a few strands of thick leather (which is called a keeper). This allows the whip to hang across a stockman's arm when not being used. The handles are normally longer than those of a bullwhip, being between 15 and 21 inches. The thong can be from 3 feet to 10 feet long. Stockwhips are also almost exclusively made from tanned kangaroo hide. A lot of whip crackers really like the stock whip as they are very good for tricks and faster whip moves. Maybe I just have not tried enough of them as I have never got along with a stock.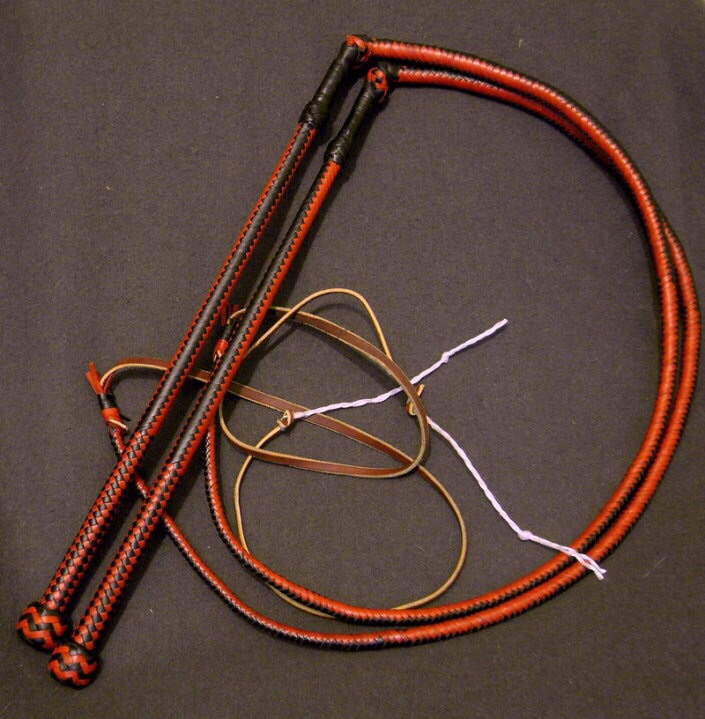 Stock Whip by Karol Bilecki Poland http://kiscienwhips.com
The Hybrid Whip is a relatively new type of whip, and it gets its name because it combines some of the best qualities from a few different traditional whip styles. It performs volleys and other multiple/fancy cracking with the highly responsive balance and leverage of an Australian Stockwhip, its thong is attached to the handle inside a cup like a Florida Cow Whip, and the transition area between handle and thong doesn't have a stockwhip's "hinged" keeper, so we Americans, Europeans, etc. who have always used bullwhips feel more comfortable with how it handles – no adjustment period necessary. I have only just started to use the Hybrid whip and I have to say I am converted, I love how light and fast they are.
Where to get more information
If you want to get into whips there are now lots of forums you can join to chat to people. Get yourself to a whip convention or find a friend with a collection of whips so you can try them out and find the right one for you.
I have started running workshops with sponsorship from different whip makers so my students can get a chance to use a variety of whip styles and lengths to feel what's right for them. It's really working well, I must add a disclaimer here, whips are so much fun and highly addictive so you can never just buy one whip!   I would always recommend buying a matching pair as they will be weighted perfectly for learning two handed whip tricks.