Diva Hollywood is a sassy, sordid and comedic cabaret perfomer who has performed around the globe since 2005.
Diva is famed for her bawdy humour and her skillful whip tricks combining audience interaction into wonderful storied themes, Her salacious and transgressive acts are all brought together with a wonderful creative wit.Since 2005 Diva has headlined cabaret and burlesque events in New York, Milan, Geneva and Paris and won awards for her amazing acts.
15 years of wonky & wonderful success
Diva started Burlesque when she was diagnosed with Multiple Sclerosis, having lost the use of one leg and an eye Diva decided to take her remaining bits and pieces on stage and wave them about in a sexy way!  Diva's doctors told her she had around 10 years of life remaining, but through the curative powers of positive thinking and public nudity Diva has proven the doubters wrong.
Using this sharp realisation of mortality as a motivation Diva began to explore the topics of sexuality and disability, and of invisible disabilities. Later as her symptoms temporarilly abated she was able to express the variation in more comedic abstract ways. The nature of MS means Diva has to wrestle with an invisible demon at all times and this informed her work in acts such as her Black Swan represented the demon in puppet form, a bird which attacked her during a glamorous dance piece. It can be seen too in other acts and irreverent style.
Starting in 2005 Diva stepped onto the stage of New York's Slipper Room.  Starting at the top … Diva threw caution and her bra to the wind and make her first foray into burlesque on the same bill as legends such as Dirty Martini and Tigger.  A trial by fire survived Diva returned to the Uk and joined the nascent UK burlesque scene which at that time was small and gleefully experimental.
Now, many years later, Diva has embraced her "wonky but wonderful" mantra and performs around the world at an international level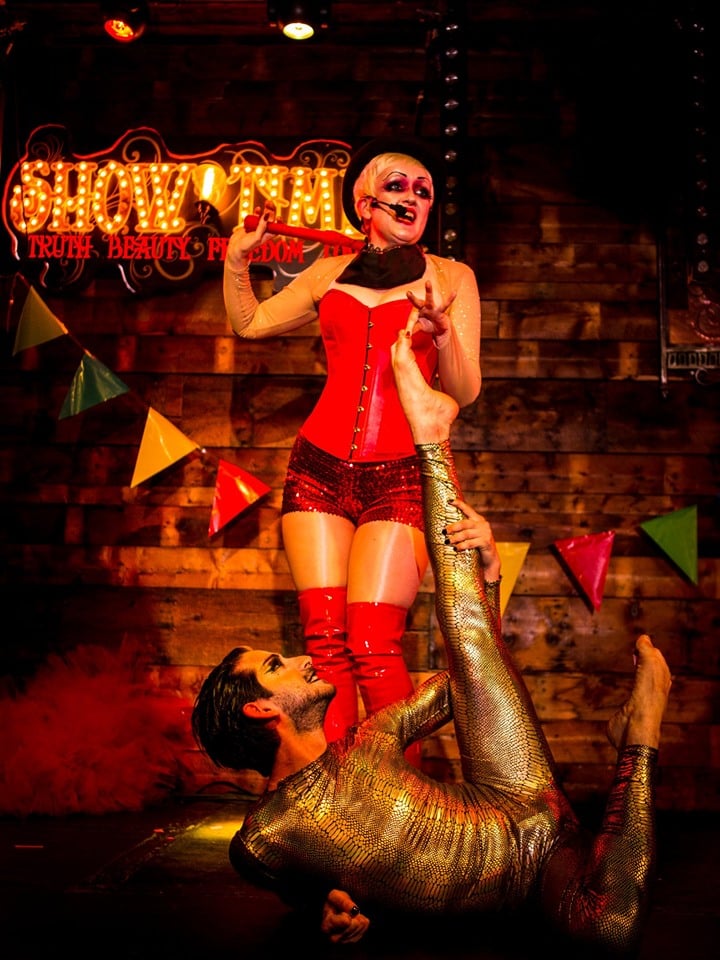 Whipteaser Diva Hollywood is full of "sin, sauce and seduction". With her sassy repartee,  her comedic double-whip tricks and wild audience interaction Diva Hollywood has become the go-to name for whip-smart entertainment.
So, if you are booking a cabaret event, wild party, or a burlesque gig, whether it's a wedding, a funeral or  a Bar Mitzvah … Diva is a wild host and a fast talking whip cracker you will never forget.   If you would like to book Diva then get in touch
"Diva Hollywood does the very best whip act in the entire fucking world"
"She has the best Bazongas"
If you want to know more ...