Mabel Stark was the most famous and first ever female tiger tamer in the US in the early 1900's. She worked with the animals from 1911 to 1968 and was mauled many times but kept getting back into the ring, even into her old age.  I think this is what I admire most about her and why she became an icon of mine and the inspiration for my own act "Tiger Tamer".
mabel starks early life
The story of Stark's early life is hard to pin down accurately, as she embellished the facts liberally to make a good story in various interviews and her autobiography was commissioned by the circus she worked for at the time. Most sources agree she was born in Kentucky with the name Mary Haynie, although she said at least once that she was born in Canada. Her birthdate varied, but appears to be around 1889. She was an only child or one of seven, and her parents died within the same month or two years apart when she was 11 or 13 or 17. We know that she was trained as a nurse before she joined a circus as a hoochie-coochie dancer somewhere around 1909. But Stark later claimed she went straight from nursing school to the Al G. Barnes Circus in 1911 to become an animal trainer.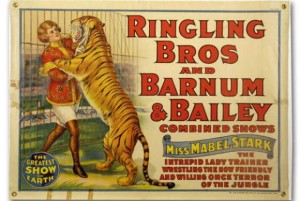 No one starts out in the circus as a tiger tamer, however. Stark was assigned to riding horses, which she hated. She wanted to work with tigers, the most dangerous animal in the circus. So Stark had to prove to the circus manager and the head trainer that she had what it took to train the big beasts. Stark approached the circus' head animal trainer, Hungarian Louis Roth, and trained under him -and was even married to him for a short time. Roth would have preferred for Stark to work with lions, but she insisted on tigers. She never trusted Lions they way she did Tigers and other big cats. Stark's first big cat performance was with two lions and two tigers, and she eventually worked up to as many as 18 tigers at once.
Rajah Mabel's most famous tiger she raised from a cub he became instrumental in making Stark a star. She developed a shocking signature act in which she wrestled Rajah, causing the audience to believe she was being mauled. She admitted years later that Rajah was actually relieving himself sexually during this act, which looks very much like a vicious attack to anyone not familiar with tiger behavior. Stark started wearing a white leather uniform at this time so that the audience would not see the tiger semen.
Stark announced her retirement a couple of times, but always returned to performing. She appeared with various circuses through the 1930s. She worked as a stunt double in the lion-taming scenes for Mae West in the 1933 film I'm No Angel, which West wrote, possibly inspired by Stark's career. Hollywood work introduced Stark to Louis Goebel's Jungleland, a Thousand Oaks, California, facility that housed trained animals for movies. It later became a theme park, and Mabel Stark went to work there in 1938, eventually on a permanent basis. During her 30 years at Jungleland, she also found time to take her tiger act on the road to Europe and Japan. And she got married for the last time. Her fourth (or possibly fifth) husband was menagerie keeper Ed Trees, who died in 1953.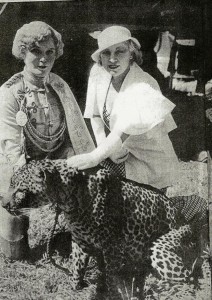 Jungleland was bought and sold several times during Stark's tenure, and the park declined financially through the 1960s (it was finally dismantled in 1969). The new owner in 1968 did not like Stark, and fired her. The 79-year-old tiger tamer did not want to retire. The loss of her job, combined with an incident in which one of her tigers escaped and was killed, sent her into despair. Mabel Stark took an overdose of barbiturates, and was found dead by her housekeeper on April 20, 1968. According to her 1938 autobiography Hold That Tiger, Stark would have preferred to die at the hands of a tiger than by any other means, but it was not to be. She had already survived that fate.